History of the School
Moordown St. John's Primary School maintains an important role in the community of Moordown and Winton. There has been a church school in Moordown for 150 years providing local families with an excellent start to their children's education. The original school-cum-Church was called 'St. John's in the Wilderness' and was planted by St. Peter's Church in Bournemouth in 1853 to serve the farming community of Winton and Moordown. The school building has been on its current site for 125 years and in 2003, we celebrated this double anniversary.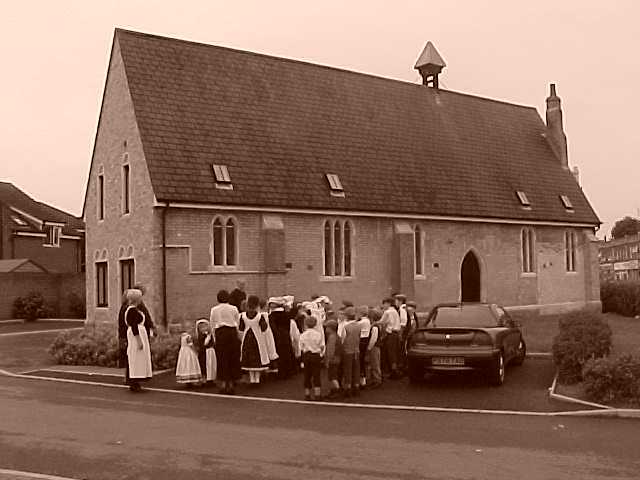 In 1995 there was a major expansion of the school buildings which enabled the school to accommodate more pupils in purpose built facilities that are of a high standard. In 2006, we saw the opening of new, fully accessible changing facilities for the swimming pool which is increasingly used by other schools and the local community.
Our latest improvements to our facilities have been to re-design our school library, install a brand new adventure playground and re-develop our reception outdoor learning area. In recent years, we have installed a new welcome area at the front of our school, re-furbished our kitchen so it is suitable for the preparation and serving of hot school meals and built a dedicated pupil support room that hosts speech therapy, emotional support and specific language development. We have also installed improved seating and shelter in the playground, introduced new play equipment (including a traversing wall, goals, basketball hoops and play train) and have increased the size of our Foundation Stage classrooms.
We value the history of our school and our foundations in the Christian Church and we endeavour to look forward and provide our pupils with a rounded education that is challenging and equips them in every way for their future education and life.
Today, we are a two-form entry Church of England Primary school linking closely with St. John's Parish Church Moordown and the Diocese of Winchester and Portsmouth. Being part of the Christian family greatly influences all aspects of school life.
We currently have 420 children of ages 4+ to 11 years on roll in 14 classes. We are well equipped with all pupils having access to laptops, a library, swimming pool, a multi-purpose hall/gym and a music and drama studio. We also have playground spaces, an adventure playground, Multi Use Games Area (MUGA), a peace garden, outdoor classroom and a school playing field with an all-weather surface. We offer extended services beyond school hours including a breakfast club, lunchtime and after school clubs and a thriving after school and holiday play scheme.
St. John's Parish Church is next door to the school and children often visit St. John's for services and other related activities. Above all, we are a purposeful, safe and happy school where children love to learn.